Val is not the only weirdo magnet in Thevictorian family.
My sister the ex-mayor's wife had a run-in with a gal at the second casino we stopped at on Friday night. The run-in actually came on Saturday, on our return visit. I'd had good luck there, and Sis gave me the choice of which one I wanted to return to. You don't turn down Sis when she gives you an option.
While I was busy having no luck on my previously high-paying Mr. Moneybags machine, and no luck on any other no-armed bandits in High Winds that day, Sis had sat herself down at a penny machine near the front. She was having a blast, getting a little bit of payback, and Hick decided to join her at the machine on her right. There were four machines in that grouping. The two that Sis and Hick were playing, and two on the other side of them, arranged back-to-back with their machines.
Sis was the first one to get her bonus Money Monkey. She and The Ex-Mayor were taking those stuffed monkeys back home to Babe, their 3-year-old granddaughter they babysit during the week. The Ex-Mayor followed shortly with his. I couldn't get the card-reader to give me a total on my play, but Sis persuaded me to go ask the player's club gals to scan it and see if I had earned my monkey yet. There was no line right then, so I did, and I had, and I took my Money Monkey back by to show them that I won $8 in free play. "So did The Ex-Mayor and I!" said Sis. "That must be what they are giving today."
I went on roaming through the quarter and the dollar machines. My Money Monkey was an albatross around my neck. So awkward. Normally, I don't take a purse when I go to the casino. But on this trip, I had too many different player's cards to stuff in my pockets. I had my small leather purse with a long strap that I put over my neck and under one arm like a tourist. I told Sis (who had a large, flat, over-the-neck-shoulder, soft-sided, brightly-colored purse that The Ex-Mayor gave her specifically for casino purposes) that I felt like that big ol' bear with the itty-bitty backpack in the kids' cartoon movie
Open Season
.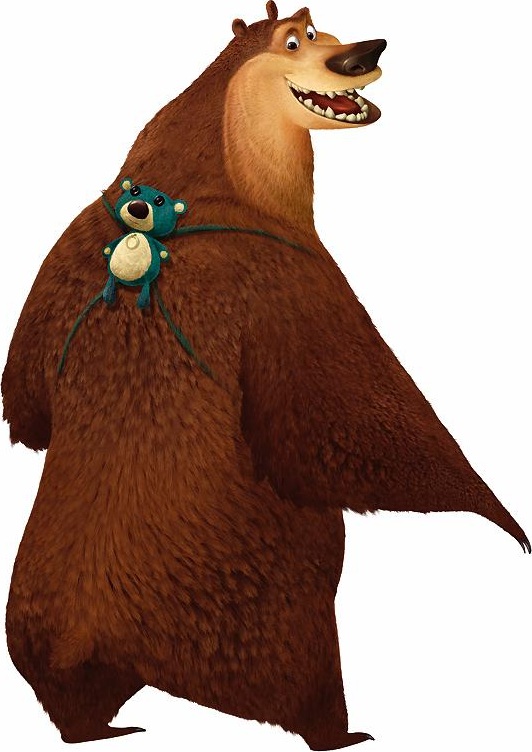 At least I didn't wear the purse on my back. I had to keep shoving it back into place so it didn't ride up to my armpit. Then I had to carry the Money Monkey. And when I wanted a free soda (Diet Pepsi w/a dash of lemonade), I had to stuff that Money Monkey kind of inside my little purse, but his head and shoulders and most everything above his waist stuck out.
I went back to find Hick. He was still sitting at the machine on Sis's right.
"Are you going to be here a while?"
"Yeah. I'm winning now. I was down to my last few cents, and The Ex-Mayor put money in my machine for gas
to get the lost keys last night
. I told him no, but he walked over and stuck it in. I hit a bonus, and now I'm winning, and I'm going to play this machine a while. He said he was giving me lucky money. Looks like he was right. What are you doing?"
"Still looking for something that will pay. But this monkey is in my way. I hate carrying it around. Will you hold it for me?"
"Yeah. Give it here." And with that, Hick took my monkey and shoved it in the crack between his belly and his upper thigh. Head first. It looked a bit inappropriate, but who was I to question my monkeysitter? "Hey, sit down on your sister's stool for a minute."
"No. I don't want to play that machine."
"She's coming back. She doesn't want anyone to get it."
"There are two monkeys on her seat. They'll know it's taken. You can tell them."
"I'm trying."
I didn't care one whit about Hick's and Sis's problems. I was in a casino, by cracky, with a pocketful of money, and I was going to gamble. Not sit idly as a seat-saver. It wasn't until we all met up to leave, standing in the front vestibule waiting for The Ex-Mayor to cash out his tickets (this casino made you use a real live person, not a ticket machine), that Sis told me the whole story.
"See that lady sitting at the machine I was playing? [a hardened-looking 50-something gal with bleached-blond hair, thin as a rail] She is crazy! She was at the machine on the other side of mine, and I knew she was waiting for me to get up so she could have my machine. I could hear her playing, and she would press her button about once every four minutes. Then she came around and got all smart with me. 'Do you get a monkey for every 50 points of play?' I told her no. You only got one monkey a day. After playing 50 points. And she said, 'Why don't you go ask them if you get one every 50 points?' And I told her I didn't need to. It tells you on the sign as you come in. She just wanted me to leave so she could take my machine. Then she says, 'Well, YOU already have TWO monkeys.' And I told her, 'No, one is my husband's and one is mine.' Then she pointed at Hick and said, 'Your husband has two monkeys, too!' And I told her, 'THAT is NOT my husband!' So she went back to her other machine to wait. Now she's on mine. I hope she loses a lot."
I pity the weirdo who tries to separate my sister the ex-mayor's wife from her machine. She doesn't know who she's messing with.